GET GET GET GET!! This morning I found a huge orange envelope and I didn't expect my first purchase online could reached so early. The money really worth it!




Oh boy oh boy-- *rriiipppsss*



Yay! I tore the envelope, but I want it to be perfectly sealed back.... *sobs*



My brand new book of the month: My Milk Toof's ickle And Lardee's Grand Adventure Book! Oh you never heard of the name before? It's alright, I'll provide some explanation. :3

My Milk Toof is a blog by this artist called Inhae Lee (yeap, she's Korean). The blog is about two lil milk teeth called ickle(no capital letter i) and Lardee. Stories that she posted are extremely heartwarming and adorable, so if you have some time to spare why not check it out? 8D

Anyway, back to photo spamming!!



Can you smell the story book flavor? *points at the tile background*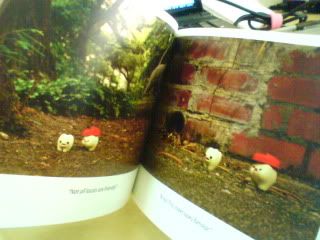 These are the pages found in the book. Obviously all of these pages are photographs. Must love the beautiful composition!!



Yay!! I always appreciate artist' signature! Makes me feel special! *u* *shot*



What does the 150/500 means? This book that I got is the 150th copy and yea... IT'S LIMITED EDITION BABY---!



Almost forgot to show the extras! I received three mini prints of My Milk Toof's photography!! How cool is thaaaaaaaaaaaaaaaaaaaaaaat???? *squeals*

Man--!! I love this like hell!!



*inserts commercial man voice* For more details, visit MyMilkToof.blogspot.com ! 8D